ASTM A312 / A213 / A249 TP 316 Pipes & Tubes,316 stainless steel pipes, astm a312 tp 316l, a312 316l ,a213 316l, a778 316l, a249 316l, a269 316l, a270 316l, a554 316l,tp316l tubing manufacturers in India,316l stainless steel pipes, 316 stainless steel tubes, a312 material suppliers ,a312 tp 316 material suppliers
SS 316 Welded Pipe, Stainless Steel 316 UNS S31600 Seamless Pipes & Tubes, SS 316 ERW Pipes Suppliers & Fabricators, uns s31600 stainless steel suppliers, uns s31603 stainless steel suppliers ,tp316l pipes manufacturers, tp316l tubes manufacturers,1.4401 stainless steel welded tubes, 1.4404 stainless steel welded tubes , seamless 316l stainless steel tubes, 316l welded stainless steel pipes, 316l seamless stainless steel pipes,ASTM A358 TP316 Stainless Steel EFW pipes
Stainless Steel 316 werkstoff nr.1.4401 Pipes & Tubes, Stainless Steel 316 Welded Tubes, Stainless Steel 316 EFW Pipes Suppliers & Exporters.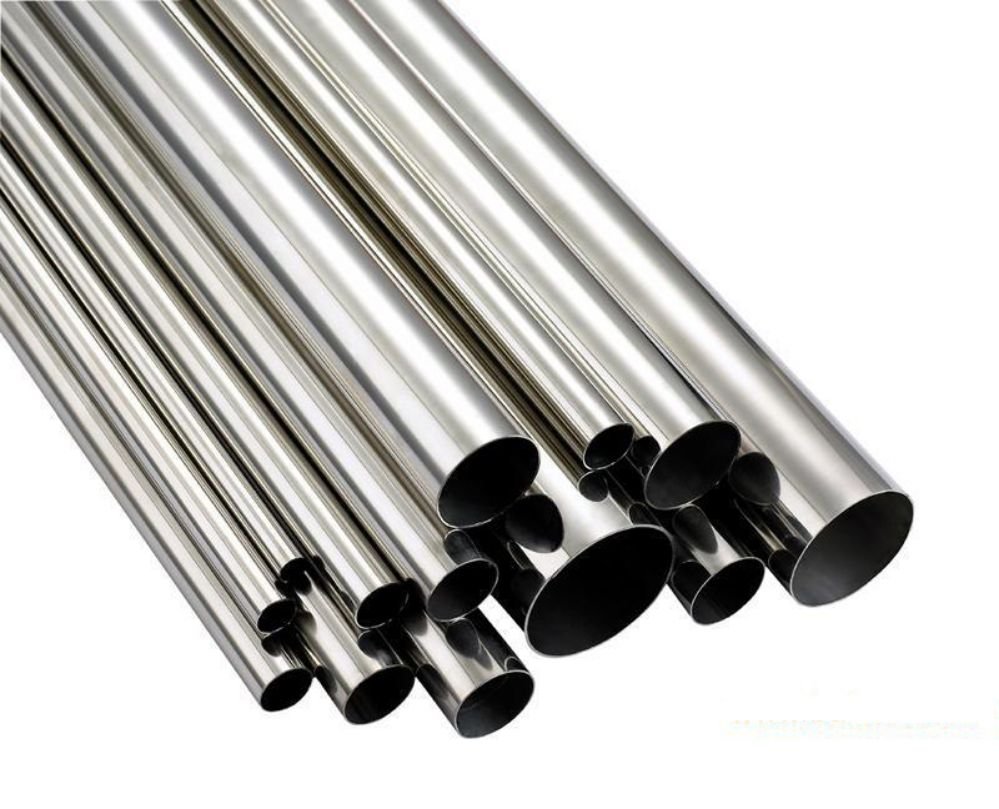 316 stainless steel pipes| astm a312 tp 316l| a312 316l | a213 316l| a778 316l| a249 316l| a269 316l| a270 316l| a554 316l | uns s31600 stainless steel suppliers| uns s31603 stainless steel suppliers| tp316l pipes manufacturers| tp316l tubes manufacturers| tp316l tubing manufacturers in India| 316l stainless steel pipes|316 stainless steel tubes| 1.4401 stainless steel welded tubes| 1.4404 stainless steel welded tubes | seamless 316l stainless steel tubes| 316l welded stainless steel pipes| 316l seamless stainless steel pipes

Nascent Group maintain largest floating stock in INDIA of stainless steel seamless pipes & Tubes as per ASTM A 312 in 316. at Nascent Group we stock wide range of stainless Grades , including 304H, 316H, 309/S, 310/S, 317/L, 321/H, 347/H, 904L, 330, 254SMO, 410 as well In duplex Steel grades we stock 2205 and super duplex 2507 in different Size range for immediate requirements.
We stock complete range of pipe schedules ranging from Sch 5 thru Double Extra Heavy.Material is stocked in the annealed and pickled, bright annealed, mill finish and polished conditions,Stainless steel 316 pipe is available in a wide range of finishes including hot rolled, annealed, matte finish, reflective finish & mirror finish,we supply high quality 316 stainless steel pipe and SS 316 tubing that is sized, cut, and finished according to your exact specifications,304 pipe and tubing is available with ODs from 0.250″ to 8.000″ with wall thickness from 0.020″ to 0.250″.Nascent Group Exporting yearly around 300 tons SS 316 pipes & Tubes to more than 80 countries.
Currently we are exporting to more than 80 countries & established our sales network in Malaysia, Nigeria, Egypt, South Africa,Tanzania, Kenya, Algeria,Sudan, Uganda, Morocco,Ghana, Mozambique, Angola, Gabon,Russia, Germany, Turkey, France, United Kingdom, Italy,Spain, Netherlands, Iran, Iraq, Saudi Arabia, United Arab Emirates, Israel, Jordan,Oman, Kuwait,Qatar,Bahrain, Bangladesh, China, Indonesia, Japan, South Korea , Philippines, Singapore, Sri Lanka, Thailand,Vietnam,Brazil, Colombia,Argentina, United States, Mexico, Canada & Australia.
Nascent Group is Dealer & Distributor of 316 Stainless Steel Seamless Pipes for
NSSMC (Nippon Steel & Sumitomo Metal Corporation)
and Kuze Stainless Steel.Dealer & distributor of Super Duplex and Duplex Stainless Pipes for Salzgitter Mannesmann
Specifications –ASTM A/ASME SA213/A249/A269/A312/A358 CL. I to V ASTM A789/A790
Size – Seamless 316 Pipes & Tubes – 1/2″ NB – 24″ NB
ERW 316 Pipes & Tubes – 1/2″ NB – 24″ NB
EFW 316 Pipes & Tubes – 6″ NB – 100″ NB
Wall Thickness – Schedule 5S – Schedule XXS.
| | |
| --- | --- |
| Dimensions | ASTM, ASME and API |
| Schedule | SCH 10, SCH20, SCH30, SCH40, STD, SCH60, XS, SCH80, SCH120, SCH140, SCH160, XXS |
| Type | Seamless / ERW / Welded / Fabricated / LSAW Pipes |
| Length | Single Random, Double Random & Cut Length. |
| Form | Round, Square, Rectangular, Hydraulic Etc. |
Composition ranges for of stainless steels 316 grade.
Grade
C
Mn
Si
P
S
Cr
Mo
Ni
N
316
min.max.
–0.08
–2.0
–0.75
–0.045
–0.03
16.018.0
2.003.00
10.014.0
–0.10
Physical properties for stainless steels 316 grade.
Grade
Density(kg/m3)
Elastic Modulus(GPa)
Mean Co-eff of Thermal Expansion (µm/m/°C)
Thermal Conductivity(W/m.K)
Specific Heat 0-100°C(J/kg.K)
Elec Resistivity(nΩ.m)
0-100°C
0-315°C
0-538°C
At 100°C
At 500°C
316/L/H
8000
193
15.9
16.2
17.5
16.3
21.5
500
740
Specifications for stainless steels 316 grade.
Grade
UNS No
Old British
Euronorm
Swedish SS
Japanese JIS
BS
En
No
Name
316
S31600
316S31
58H, 58J
1.4401
X5CrNiMo17-12-2
2347
SUS 316
Types of SS 316 Pipes in ready stock for urgent deliveries
SS 316 EFW Pipes
SS 316 Welded Pipes
ASTM A249 TP 316 Stainless Steel Welded Pipes
ASTM A312 TP 316 Stainless Steel Seamless Pipes
ASTM A213 TP 316 Stainless Steel Seamless Pipes
SS 316 Rectangular Pipes
SS 316 ERW Pipes
SS 316 Rectangular Pipes
SS 316 Seamless Pipes
SS 316 Welded Pipes
SS 316 Seamless Pipes
SS 316 ERW Pipes
ASTM A312 TP 316 Stainless Steel Welded Pipes
SS 316 EFW Pipes
Nascent Group Stocking Stainless Steel Pipes,Tubes & Tubing of below manufacturers

SANDVIK
Welded & Seamless Tube & Pipe, Hydraulic & Instrumentation Tube
304L & 316L Stainless, Nickel Alloys & other advanced Metals
Pipe sizes 1/8″-12″, Sch10S,40S,80S,120S,160S, ANSI/ASME B36.19
Tube sizes .01968″OD – 10.23″OD, numerous wall thicknesses
Stainless Specifications ASTM A213/A269/A249/A312, ASME SA213/SA269/SA249/SA312
ASME Section III (NCA-3800)
SALEM TUBE INC / TUBACEX
Seamless & Welded & drawn Domestic Tube manufacturer
304/L & 316/L Stainless Steel , Nickel Alloys & Duplex Alloys
Sizes 1/8″OD – 2″OD, wall thickness .020″ -.160″
Metric & Non-standard sizes also available
Stainless Specifications ASTM A213/A269/A249/A312, ASME SA213/SA269/SA249/SA312 and Military/Aerospace Specifications
ALASKAN COPPER
Welded & Seamless Pipe, Welded Tube, & Round, Rectangular & Square Ornamental Tube
ASTM A312/ASME SA312 Welded Pipe, 304/L & 316/L, 1/8″-12″, Sch5S, 10S, 40S, 80S
ASTM A312 Seamless Pipe, 304/L & 316/L, ¼"-10″, Sch10S,40S, 80S
ASTM A778 Pipe, 304L & 316L, 2″-12″, Sch5S, 10S
ASTM A269/ASME SA249 Tube 304/L & 316/L
ASTM A778 Tube, 304L & 316L, 2″-48″OD, .065-.312 wall
ASTM A554 Ornamental Tube
BRISTOL METALS
Welded Pipe – Domestic Manufacturer
304L & 316L Stainless Steel, Duplex, Nickel Alloy
ASTM A312, A778, A358 Stainless Specifications
Sizes ½" – 16″, Sch5S,10S,20,40S and 80S in lengths up to 60 feet
Sizes 6″-36″ in gauges to 1″ thick
Sizes 28″-112″OD in wall thickness up to 1-1/2″
TA CHEN
Welded & Seamless Pipe Manufacturer and supplier of Seamless Mechanical Tube, Seamless Instrumentation Tube, Ornamental Tube
304/L & 316/L Stainless Steel
Welded pipe, ASTM A312 & A778, Sizes ¼"-24″, Sch5S/10S/20/40S/80S
Seamless Pipe, ASTM A312, Sizes ¼"-16″, Sch10S/40S/80S/120/160/XXH
Seamless Mechanical Tube, ASTM A544, Sizes 1″-10″, Walls from .188″-1″
Seamless Instrumentation Tube, ASTM A213/A269, Sizes ¼"-1″, Walls from .028″-.120
RATHGIBSON
Welded & Seamless Domestic Tube Manufacturer
304L & 316L Stainless, Nickel Alloys, Duplex SS
Sizes 1/4″-6″OD
ASTM A554, A249, A269, A270, BPE S6/S7
Bright annealed, 30Ra OD/20Ra ID, 15Ra EP,10Ra EP
FELKER
Welded Pipe, Tube, Fittings & Accessory Domestic Manufacturer
ASTM A312/ASME SA312 Pipe, 304/L & 316/L, 2″-24″, Sch5S, 10S & 40S
ASTM A778 Pipe, 304L & 316L, 3″-36″, Sch5S, 10S
ASTM A269/ASME SA249 Tube 304/L & 316/L, 3″-6″OD, .065-.120 wall
ASTM A778 Tube, 304L & 316L, 3″-12″OD, .065-.120 wall